How to clone RFID access card on Android
We have updated a new blog post on how to clone RFID access card onto android.

There are several ways to replicate an access card on an Android smartphone.
In this article, we will demonstrate two methods for cloning your RFID access card.
Mtools with ACR122u or PN532
Using the Mifare Classic tool with an NFC-enabled Android phone
Before we begin, we need to understand what type of access card can be duplicated or cloned using an Android smartphone. The tools shown below can read Mifare Classic and Mifare Ultralight only. No other access card technology can be read, such as 125KHz low frequencies (Indala, HID, iClass, IoProx, AWID, Proximity card and other technologies)
Mtools with ACR122u or PN532
Before you begin, you will need the ACR122u or PN532. This are cheaply available on Lazada or Shopee.
You will also need an OTG cable to connect from your android charging port to the device. This can also be purchased on the above shopping platform.
Open the Mtools application
Plug in the ACR122u in your android smartphone with the OTG adapter
Click the "+" Icon
Place the card onto the reader
The card is now stored on Mtool
Click the "Write Sector" Icon
And you are done with a clone access card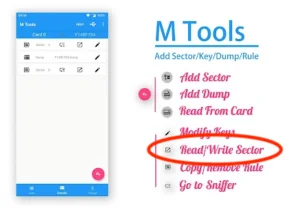 Mifare Classic Tool with NFC-enabled Android Smart phone
The simplest approach to copy NFC cards on your phone is as follows:
Using an Android smartphone with NFC capability is the simplest way to clone Mifare NFC Classic 1K Cards. That's correct, if a corporation uses these sorts of cards, your smartphone may be used to breach their access control system. Simply install the "Mifare Classic Tool" on Android.
We can now begin cloning cards that have never had their default sector password altered.
Open the Mifare Classic Tool app
Place a card near the NFC Antenna on the Android Smartphone
Click "Read Tag"
Now bring a empty key fobs and Click "Write Tag"
You are done! Test it out on your door access
Here at duplicatecard.com we offer duplicate condo card that most security vendors can't. Even for door access card, we can duplicate most of them. Our process is simple! with one of the best pricing you can find!
we can duplicate access card or RFID duplicate cards such as HID iClass card, and even Mifare ultralight cards can be duplicated.